The reviewer and safeguard of your texts
WProofreader is a spell and grammar check extension for individual users and teams.
We are on a mission to polish and refine your writing. Data security is our top priority, which is why we go beyond basic data encryption and offer businesses an alternative way to collect and store data – on your company server.
With WProofreader, every bit of your data is absolutely safe and sound. No alternatives.
About WProofreader
WProofreader is a multilingual sentence checker for individual users and teams. The browser extension corrects spelling and grammar in your messages, docs, and emails. You can choose to host it on-site, in a private cloud under Business plan or in the shared cloud under Free plan. Available for Chrome, Firefox and Microsoft Edge.
WProofreader key features:
data security

multilingual text corrector

autocorrect & text prediction

inclusive language checker

integrations with business software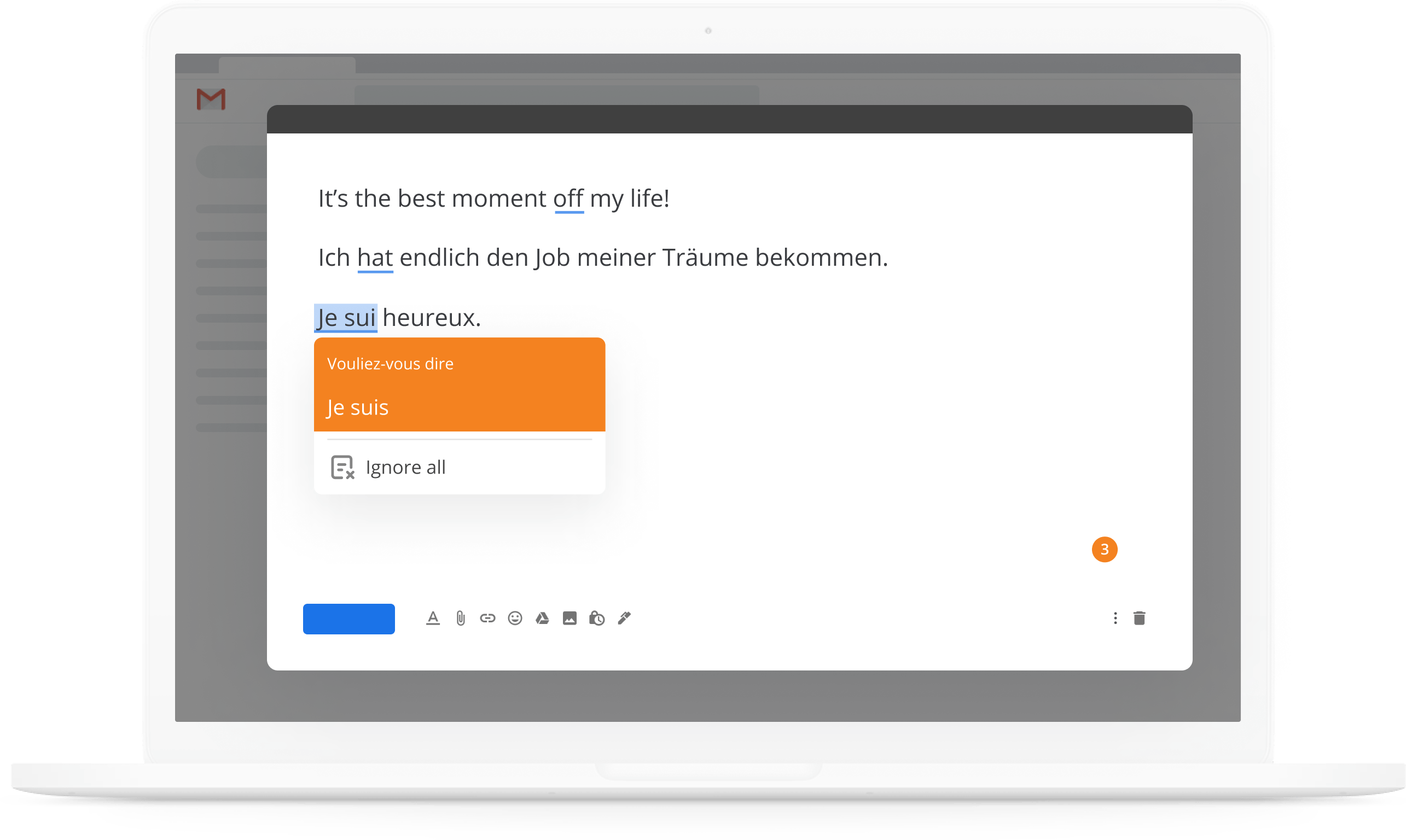 WProofreader toolkit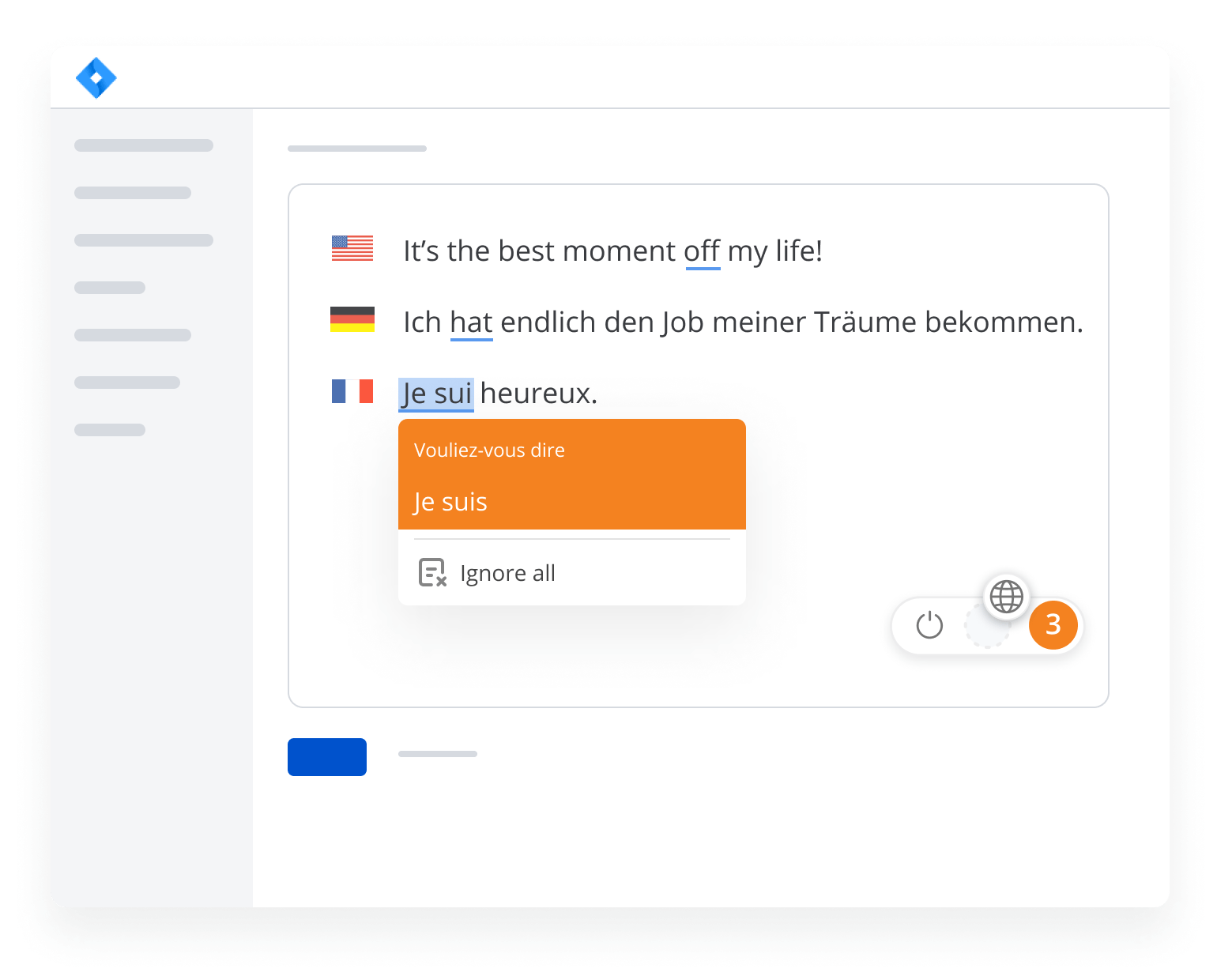 Multilingual text check

Check grammar, spelling, punctuation, and improve your writing style instantly in 20+ languages, including AI-driven English, German, and Spanish. Language autodetect finds errors in multilingual content.

Autocorrect & text prediction

Enhance business communication with advanced features — spelling autocorrect and autocomplete suggestions. Get instant corrections of common spelling typos in all supported languages. Speed your writing with intelligent text prediction available only for English and dialects as of now.

Inclusive language check

WProofreader is here to prevent you from non-inclusive or profanity writing in English. When you type a non-gender inclusive term, e.g. businessman or businesswoman, WProofreader marks it and gently suggests unbiased alternatives like business person. Also, we created custom rules to make your writing more respectful.

Google Docs support

WProofreader brings its multilingual AI-powered checking capabilities to Google Docs. Craft flawless, error-free texts on the fly every time you use Google Docs. Correct misspellings, grammar and style issues in as-you-type and in-dialog proofreading modes.

Custom user dictionaries

Create custom company-wide and user personal wordlists to ensure consistency in internal and external communication. Spell check with global and domain-specific dictionaries of medical and legal terms.
Works with
Works with popular project management apps, document management software, CRM and CMS systems,
social media, email service agents, service desks systems, publishing platforms and many other tools.
Google Docs

Gmail

Outlook

Jira

Facebook

Salesforce

Notion

Zendesk
Don't see your fav tool in the list?
No worries, just contact us to find out if WProofreader works with your software.
Pricing
WProofreader self-hosted solution is built for businesses of all sizes and kinds. With our fair pricing, you always know what you pay for.
Free
For individuals
Add to

Chrome

| Free
multiple languages
spelling & grammar check
inclusive language checker
autocorrect & text prediction
language autodetect
Google Docs support
user dictionary
Business
for teams
On-premise deployment available*
Contact us
everything in Free plan
company style guide builder
centralized billing
user management
priority email support
custom dictionaries
On-premise solution is hosted on your server (in private cloud or on-premise). Alternatively, we can host the solution for you. Our infrastructure is run on AWS with data centers in the US East region.
Frequently asked questions
Want to test the waters before buying?
Try WProofreader Business free for 14 days. No credit card required.
Get trial